70-lb Premium Opaque Text - Uncoated
0.005 in (0.127 mm) thickness
93-95% Brightness Opacity
Uncoated, writable
e.g. Church Letters, Letterheads..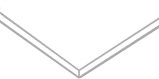 Generally more absorbent of ink than a coated paper, uncoated paper does not have a coating. It is generally not as smooth as coated paper and tends to be more porous. Uncoated paper is generally used for letterheads, envelopes and printed material that is aiming for a more prestigious or elegant look.
Full Page 8.5 X 11"
Half Page 8.5 X 5.5"
QTY
FRONT ONLY
FRONT & BACK
FRONT ONLY
FRONT & BACK
100
$ 85.00
$ 115.00
$ 50.00
$ 70.00
250
$ 95.00
$ 125.00
$ 57.00
$ 95.00
500
$ 112.00
$ 150.00
$ 75.00
$ 120.00
1000
$ 123.00
$ 169.00
$ 82.50
$ 150.00
2000
$ 177.00
$ 250.00
$ 140.00
$ 172.50
2500
$ 207.00
$ 290.00
$ 160.00
$ 187.50
3000
$ 227.00
$ 322.00
$ 170.00
$ 202.50